Do you have a proper gaming environment? Do you prefer Multi-gaming Platform apps on a single platform? 
Does a multi-gaming platform offer more features and edges over a single platform? 
Lets explore this in detail. 
What is a multi-gaming platform?
The online gaming platform is the most successful currently, with technology taking bigger strides in this digital world. 
A multi-gaming platform is a single platform where multiple types of games are available in a single app; the games can be real Money games or virtual Money games, i.e., skill-based games or luck-based games. Various games like Card, Casino, Board, Sports, Hyper-casual, Arcade, and Puzzle are available under a single platform.
Some examples of games that can be included in multi-gaming platforms: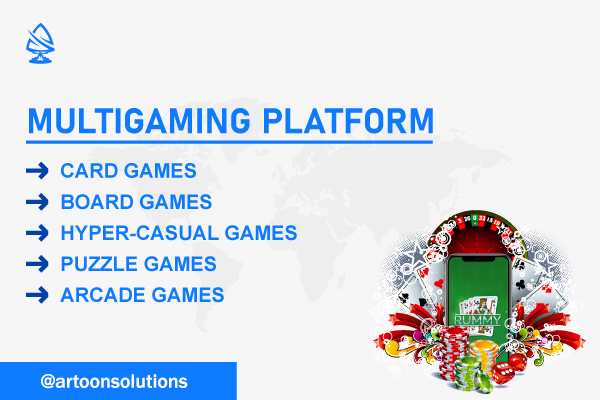 Card Games: Rummy, Tonk, Solitaire, Spades, Callbreak, Teen Patti, Andar Bahar, 29 cards, Mindi, Court Piece, 21 Cards/ 21 Puzzles, etc.
Board Games: Carrom, Ludo, Pool, Chess, Mahjong, Cell Connect, etc. 
Hyper-casual Games: Hill Climb/ Hill Racing, Fruit Ninja, Bubble Shooter, etc.
Puzzle Games: Quiz games, 3D matching games, etc.
Arcade Games: Pac-Man, Pinball, etc.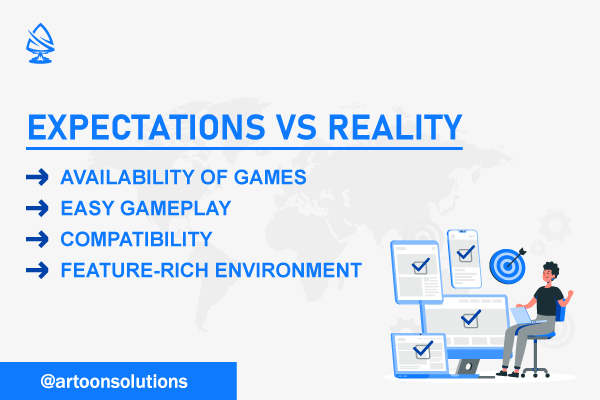 Availability of Games
Expectations: In multi-gaming platforms, people tend to believe every game will be available on one platform which is not true at all. 
Reality: There are various options for playing games on multi-gaming platforms but generally games are based on whether it is targeted at skill-based games or both luck/skill-based games. In todays world, the number of online gamers is increasing. Some gamers play games for earning purposes whereas others just play games for entertainment purposes only. If the owner is targeting real money gamers then there will be more real money games or skill-based games available in the game app. If the owner is targeting virtual money gamers then there must be more virtual money gamers or luck/skill-based games available in the game app. 
Easy Gameplay
Expectations: Here comes two cases. First, users think real money games will be very easy to play and have more options to win money by switching apps. Second, virtual money games take a longer time to recover the attempts/lives/chances in comparison to real money games. Both cases are not true. Here is the explanation.
Reality: Lets discuss the first case. In multi-gaming platforms, there are multiple options from where users can come, play and earn a huge amount of money. But each game sets a high standard and a user cant win without skills. Real money games are always competitive and skill, tactics, logic, and experience play a huge role to win money. 
Now lets come to the second case. Users are offered so many games in one single app to play, relax the mind, and can enhance their gaming skills as well. In virtual money games, a user cant win real money and many users think the game takes a long time to recover the attempts/lives/chances which is not true. Here if the user spends some chips/coins the attempts/lives/chances can be recovered in a quick time. The user is also offered to buy huge chips/coins by paying real money to the owner. So, in this way, the longer duration of time can be reduced. 
Compatibility
Expectations: Many gamers think multi-gaming apps must be of huge size that also requires higher graphics to play. 
Reality: Gone are those days when we used to get a shortage of RAM or ROM. Now devices are coming with a good RAM-ROM combination and the games are designed in such a way that there wont be any lagging issues. The game can run even with the smallest configuration. With QA-checked games and services, the app becomes more optimized and runs smoothly on every device. 
Feature-rich Environment
Expectations: Every gamer feels there should be proper communication between the team and the competitor so that the understanding of the game will be better. The availability of 3D Avatars, and animations are a must. Also, another factor comes in, which is the addition of emojis. 
Reality: In this case, the features meet user expectations! Such a rare thing, isnt it? 
Not exactly! Today we are in the advanced phase of technology where almost everything is automated. 3D animations have become fun to play with, and higher graphics is what people expect with each passing day. So, the addition of the latest emojis and availability of 3D Avatars doesnt sound shocking anymore. Perhaps these are some of the most important features of online multi-gaming platforms while moving forward to the future of online games. 
Wrapping Up!
So, what do you expect from a multi-gaming app? Do you have some new ideas that can further enhance the gaming experience? 
Artoon Solutions Pvt. Ltd. is having more than 13+ years of developing mobile or web games with perfection in delivery. We have 300+ in-house proven and experienced dedicated teams of 2D/3D Designers, Frontend/Backend Developers, QA Teams (Testers), Server management teams, and Project managers that can cater to every challenge. 
Lets get in touch and we assure you to turn your dreams into reality.